"You have been saving money for my studies, haven't you? I would like you to donate that money to the Máxima Center, to help other children with brain cancer as well."
- Veerle, January 28, 2022, shortly after her diagnosis
Woensdagochtend 8 maart 2023, toen dikke sneeuwvlokken naar beneden vielen, is onze mooie, lieve, krachtige en positieve Veerle op 13-jarige leeftijd heel rustig aan haar laatste reis begonnen.

De afgelopen weken ging Veerle helaas snel achteruit. Maar wij zijn dankbaar dat haar ziekbed relatief kort is geweest. Het verdriet van haar gezin, familie en dierbaren is groot.
Tegelijkertijd overheerst trots. In haar veel te korte leven heeft Veerle met haar sterke en vrolijke karakter ontzettend veel mensen geinspireerd en als grondlegger en inspirator van Stichting Veer(le)kracht heeft zij haar verdrietige lot omgezet in iets van blijvende betekenis voor lotgenoten.
Veerle is en blijf een grote inspiratiebron voor ons allemaal. In haar naam en geest zetten we Veerle's missie met zoveel mogelijk Veerlekracht voort. De familie ontvangt en ervaart heel veel steun en zal Veerles kracht gebruiken om dit grote verlies een plek te geven.
Grote dank gaat uit naar alle medewerkers van het Prinses Maxima Centrum voor Kinderoncologie en specifiek Lisethe Meijer, de fantastische dokter die dag en nacht voor Veerle en haar gezin klaarstond. Hun toewijding en professionaliteit gaf Veerle en haar gezin verlichting in een ongelooflijk zware periode.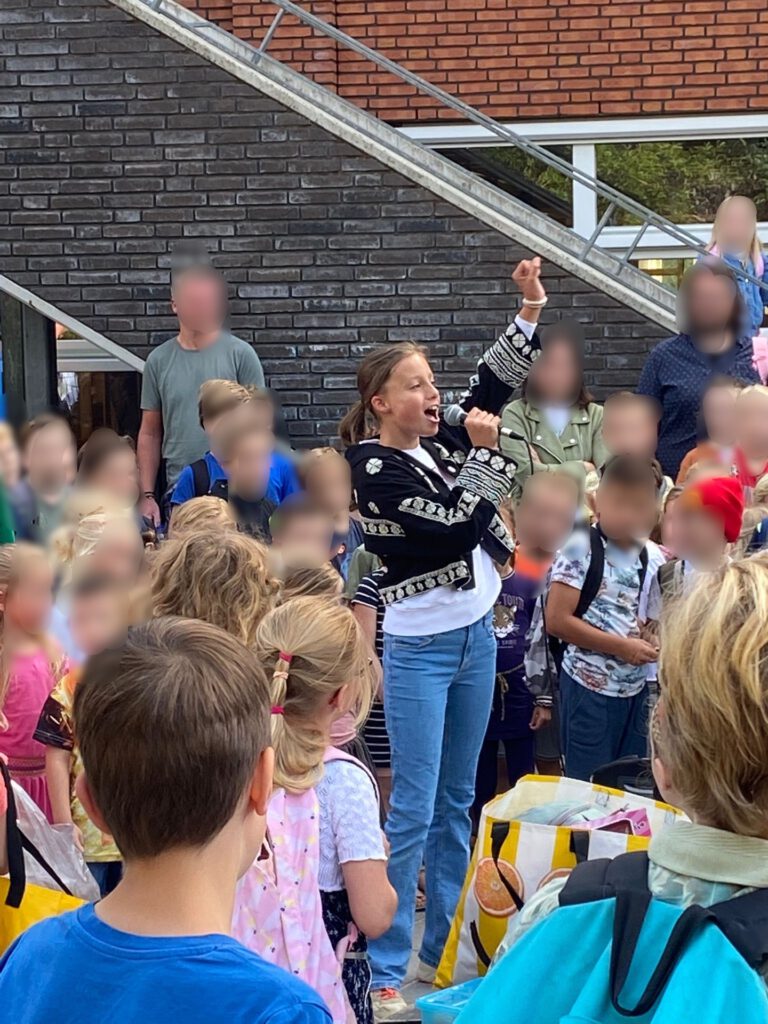 In early 2022, Veerle (12) was diagnosed with a Diffuse Midline Glioma (DMG), a rare and aggressive form of brain cancer, with a very low survival rate so far.
Veerle, vrolijk, positief en veerkrachtig als ze is, ging niet bij de pakken neerzitten. Met familie en vrienden startte zij het initiatief Veer(le)kracht, waarmee ze geld wilde inzamelen voor broodnodig en vernieuwend onderzoek naar DMGs bij kinderen in Nederland. Om kinderen met een DMG, zoals Veerle, een betere kans op overleven te bieden.
Several promising trials with respect to DMGs have already been started outside Europe. Medical doctors of the Prinses Máxima Centrum ("PMC") want to bring these trials to the Netherlands. The first concrete goal of the Veer(le)kracht Foundation was to raise an amount of €200.000,- required to start the first trial (with the drug ONC201). We realized this first goal in a very short amount of time!
We can proudly announce that dr. Jasper van der Lugt and his team of the PMC opened this trial in November 2022. The first patients have meanwhile been admitted, and have started with their medication. People outside of the Netherlands have also expressed interest to join the trial; several families have already applied.
Until now, the trial is only eligible for patients that have just finished radio therapy and did not yet experience recurrence of the cancer. We hope that in February 2023, this trial can also be opened to children that still need to undergo radiotherapy (i.e. just after their diagnosis) and to children that experienced recurrence of the cancer.
To all Veer(le)kracht supporters, big and small: thanks a thousand times! Without your donations and the many fantastic campaigns that you have started since our inception, this had simply not been possible!